Baby Cole...
Today you are one month old.
I love you so much, I could eat you up.
You love:
...being held
...listening to running water
...nursing all day long
...riding in Daddy's car
...staring at faces and shadows
...taking a bath
...kisses on the neck
...snuggling in your carrier
...being swaddled
...sleeping with Mommy
I'm convinced you are smiling real smiles.
You're not the best sleeper yet, usually only napping in the car and spending the early hours of the morning doing more grunting, farting, & pooping than snoozing. I'm tired.
Speaking of poop, you can't go more than ten minutes with a clean diaper. Your cloth diapers are waiting for you, as soon as you will need to be changed less than 15 times a day! You're in a size 2 in disposables, which I thought you never make it to!
I wasted a lot of money on newborn onesies. You're in 3-6 months stuff.
You have already had your first little cold, passed from your siblings to you, and now onto me.
Your hair is falling out and you have Daddy's exact hairline. So far you look the most like Camden, and have the world's longest toes.
Ten days ago you were already 11.5 pounds, so my guess is you're pushing 13.
Camden has given you three nicknames: Coley
Rolley
Polley
,
Yertle
the Turtle (you could hold you head up well from day one, but it bobbles like a turtle) and Bert the Lizard (NO idea about this one).
You rarely cry, unless you're startled- usually when Daddy's screaming during a Cal game. It won't be long before you're cheering at the TV together.
Chloe loves to hold you,
Chayse
loves to talk to you, and Camden loves to poke at you & pinch your face. She was not amused when you peed on Emily last week.
I am exhausted, haven't worn real clothes or makeup all month, haven't cooked much or touched my sewing machine, and the house is a mess. I wouldn't trade it for anything...
I think we'll keep you.
XOXOXOXOXO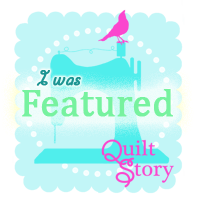 Cole's quilt is featured here today.